If you have recently purchased or thinking to purchase an Apple iPhone 14 pro max then you should have a look at the PTA custom duty and tax which you will need to pay in order to keep using any local sim card in iPhone 14 pro max after 60 days of inserting the sim card for the first time.iPhone 14 Pro Max PTA Tax is a big amount and it can increase the overall cost of iPhone 14 Pro max.
iPhone 14 Pro Max PTA Tax on CNIC = Rs. 158,210
iPhone 14 Pro Max PTA Tax on Passport = Rs. 132,500
Some years ago PTA introduced DIRBS system to regularize the mobile phone usage in Pakistan as we all know that there is a big amount of used Phones (iPhone,samsung,motorolla and other brands) imported in to Pakistan without paying the duty on those phone.
PTA DIRBS System
So PTA Introduced DIRBS system to collect tax on all of the Mobile phones which are not manufactured in Pakistan or Imported.Basically this DIRBS system works on the basis of IMEI which is a must have number for all mobile phone and IMEI number is unique for each mobile.
By using the IMEI number complete details of a mobile phone can be retrieved from the global IMEI database.PTA DIRBS system uses the global IMEI database to identify the make and model of a mobile phone and when the model/make is identified then there is slabs of Tax and custom Duties which is applied on that actual price of that phone.
Now there is a big drawback in this system is that this system doesn't care about the phone is used or new, instead it charges the duty on the actual price of that phone at the time when it was launched in market and as we all know that most of the iPhones launched have prices higher then $500 , so there is a big tax applied into iPhone to get it registered with PTA.
PTA Tax on CNIC and Passport
There is a difference in the PTA tax or FBR duty if registered with Passport.So if you are coming from abroad and you have taken any phone with you than you may get it registered with PTA as a slightly lower cost that is the incentive given to overseas Pakistani who wants to bring the mobile phone with them.But this registration needs to be done within the 60 days on arrival in Pakistan.
If you don't have passport or haven't traveled then the only option you have to get the phone registered is with your cnic and the charges are bit high for that.
How to Register iPhone with PTA
This is a very important question which you must have in mind that how to get the iPhone 14 pro max registered with PTA so you may enjoy using it without any interruptions in Future.
There are 2 ways to get the iPhone registered with PTA
1) With PTA DIRBS website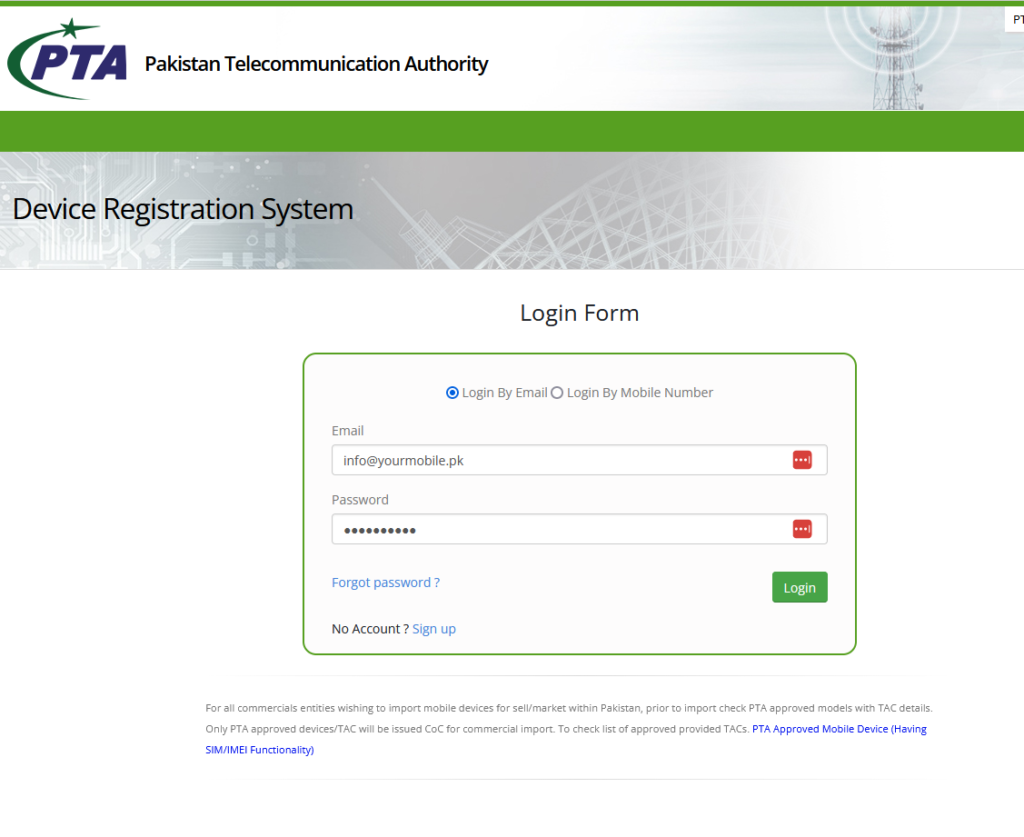 PTA DIRBS website has online system which you can use to register the IMEI on your mobile phone.You may signup at portal with the following links.Once you are signed up you need to login to DIRBS system and submit a registration request.Make sure that you enter your correct details and double check the IMEI number(s) on your phone before submitting
2) By Visiting the Customer Service Center
Another option to get your iPhone 14 pro max registered with PTA is by visiting the customer service center of any mobile operator in Pakistan (Telenor,Zong,Jazz or Ufone) .Every mobile service operator is providing the PTA registration service as per the directions received from PTA.
You need to visit the nearest customer service center and let them know about your information and the IMEI number of your mobile phone they will get the details and let you know about how much the duty you will need to pay to get your iPhone 14 pro max registered with PTA.
If you want to see the original and best look of iPhone 14 pro max then you may check out post.