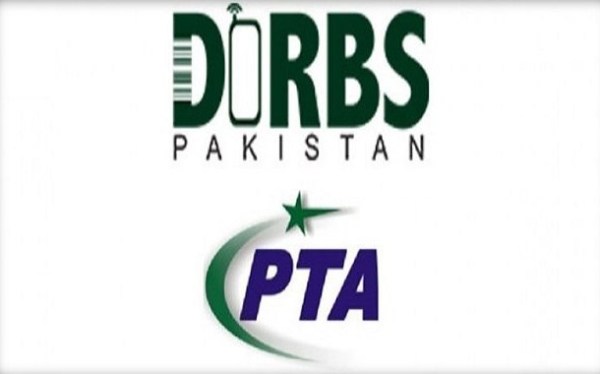 In October 2018 Govt of Pakistan announced the registration of IMEI of all mobile phones/smart phones being operated in Pakistan.This step was taken to increase the tax revenue and to register all mobile phones being operated in Pakistan.
A deadline of january 2019 was given by PTA (Pakistan Telecommunication Authority) in this time period users were told to put a sim card on their mobile phones and make call/sms so their mobile phones will be automatically registered free of cost.
Whenever a phone call/or sms is sent via any mobile the IMEI of mobile was recorded by the Mobile Phone Company and was sent to PTA to register it.Once the IMEI is registered and added to database it show the device status as compliant.
Status of IMEI by PTA Explained
Compliant
If the status of IMEI is compliant it means that this phone is PTA approved and registered in PTA database.There is no need no need to pay any additional tax on this device.
Non-Compliant/Un Registered
If the status of IMEI is non compliant than it means that the device is not compliant and you need to pay the tax and have the IMEI registered.Tax slab is different for each mobile phone as per their price value.Please check the following post about the custom duty and tax on mobile phones in Pakistan.
How to find IMEI of my mobile Phone
You can easily find the IMEI of your mobile phones by dialing *#06# on any mobile phone.It will show All IMEI associated with your mobile phone.Phones with Dual Sim slot have multiple IMEI(s).So you need to check the status of both the IMEI(s)
Check Mobile IMEI Status
There are 3 ways to check the status of IMEI of any mobile/smart phone.
1) SMS
You can check the Status of IMEI by Simple sending a sms to 8484
Compose a new message
Type the IMEI of your phone e.g. 1234567891011
Send it to 8484
You will receive a reply message from PTA and it will have the status of the IMEI (Compliant or Non-Compliant)
2) Online (Via Website)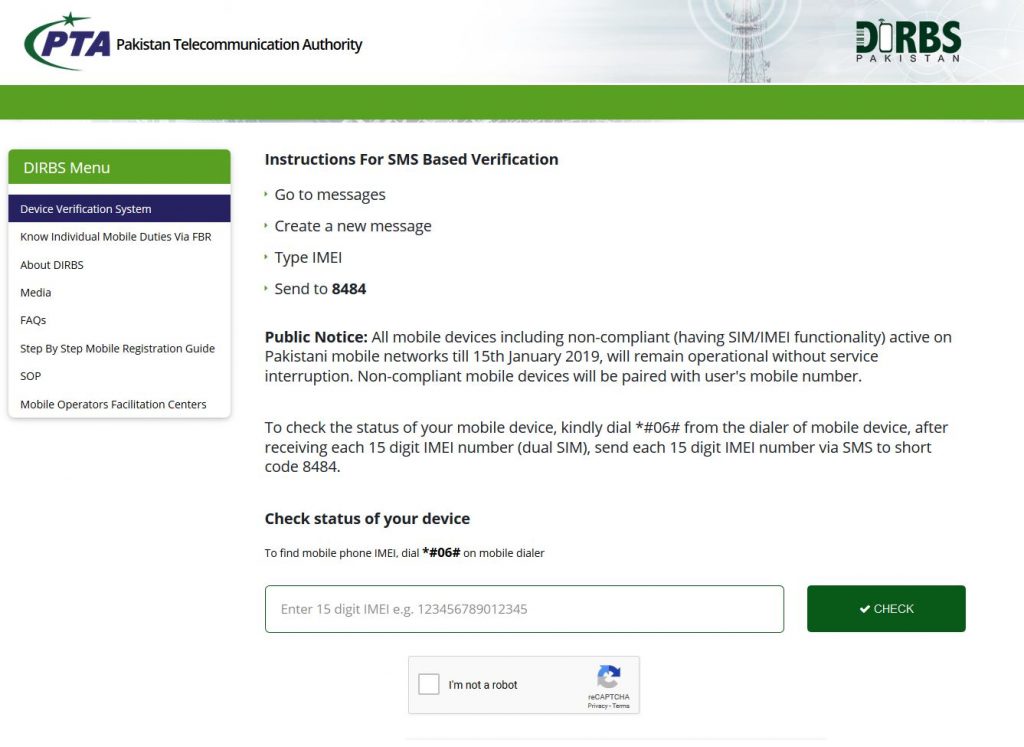 IMEI status Can also be checked Via Dirbs system of PTA which is available on the following URL
You simply need to enter the IMEI of your phone into the box on above URL and it will show the status of IMEI.It also shows the model number of your mobile phone e.g. apple iphone 7
Mobile APP (Andriod)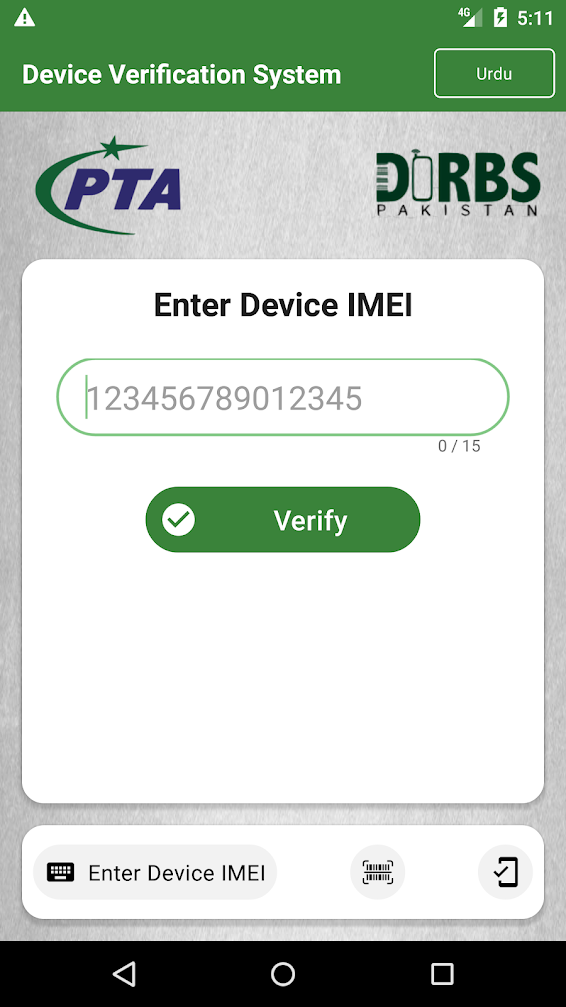 Another quick way to check the status of IMEI of your mobile phone is via the mobile app of PTA.Currently mobile app is only available for andriod phones.
You can download the mobile app from the following link of play store.
Before purchasing any mobile phone make sure that the phone is PTA compliant otherwise it will be blocked within a month and won't work on any mobile network in Pakistan.To activate that phone you will have to pay tax.Please check our post about custom duty and tax on mobile phones in Pakistan