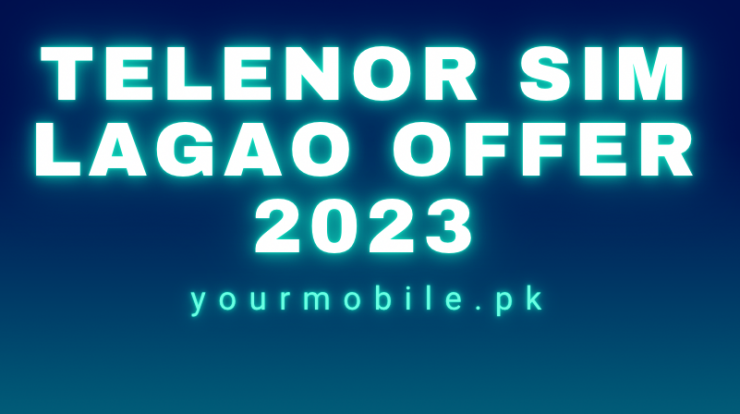 Telenor Sim Lagao Offer is one of the great offer from telenor to bring it's customer who are not using their telenor sim cards for some time,If you have a telenor sim card which is not used for last 30 days then you should put your sim card back into your smart phone to available Telenor Sim Lagao Offer.
This offer is basically a gift for the customers who for the some reasons stopped using telenor sim card and temporary using any other network , so by available this offer they can get good amount of internet data,free minutes and sms from telenor free of cost.
Price of Telenor Sim Lagao Offer
Telenor Sim lagao offer is a free of cost gift from telenor.It has no charges.
Eligibility of Telenor Sim Lagao Offer
Eligibility criteria to available telenor sim lagao offer is very simple.
Your telenor sim must not be used in the last 30 days.Exact date provided by telenor is 23 Dec 2022
Which means that your sim card should be out from any of the mobile or smartphone and you haven't put it on any mobile phone for a second in the last 30 days.So if you are sure that you haven't used your telenor sim in the last 30 days than you can definately avail this offer.
Free Resources with Telenor Sim Lagao Offer
After availing telenor sim lagao offer successfully you will get the following resources free of cost which are good amount of resources and you can enjoy these resources for 60 days.
| Resource Name | Validity | Quantity | Usage check Code |
| --- | --- | --- | --- |
| Free Internet Data | 60 Days | 10 GB | *999# |
| Free On-Net Minutes (Only for telenor) | 60 Days | 3000 | *222# |
Details about the Free Internet MBs
With this offer telenor will give a total of 10 GB of internet to user in the time frame of 60 days.So initially after availing this offer you will have 5 GB of internet for 30 days (out of 5 GB, 3000 MB is for internet and 2000 MB is for social network e.g. whatsapp,tiktok & IMO.
Note : Very important note that the free internet MBs can't be used during 7 pm till 12 am, so please make sure that you mobile internet data is turned off during this time otherwise your usage will be charged on normal internet rates which are very high and there are chances that if you have good amount of balance on your number then your balance will be gone quickly.
Details about the free On-net Minutes
Free Minutes will be provided on daily basis, telenor will provide 50 on-net minutes free of cost daily
Free On-net call will be not available during the time frame 6 pm till 9 pm so if you make any call in this time it will be charge from your balance
How to Activate Telenor Sim Lagao Offer
To avail or activate this offer on your telenor number, please make sure first that you are eligble for it and you haven't used your sim on any mobile for last 30 days.
After making sure that you are eligible for this offer, please dial the following code to send your request to telenor to enable this offer on your number.
You may activate this offer on your number by 2 methods
By Making a call at 2222
By sending a sms (FREE) to 2222 (sms charges will apply)
Usage Check
Once you have activated the telenor sim lagao offer and you have got the confirmation message, it is now very important to keep an eye on the available or used resources you have on your number.
Usage can be checked by dialed specific code for each (e.g. for internet usage check dial *999#) All codes for status usage check are mentioned above in the table of free resources.
Frequently Asked Questions
Some of the frequently asked questions which are very informative and helpful for those people who are activating this offer for the first time.
Question : Is this offer available for both postpaid and prepaid ?
Answer : No this offer is only available for telenor prepaid users.
Question : How much time it will take for this offer to be activated ?
Answer : It will take arround 1 – 2 hours for the offer to be activated and free resources to be credited into your number.
Question : Are making the call on telenor (on-net) number totally free ?
Answer : No making call is not totally free as there is a small charges of 0.125 on the each call connected. Basically these are call connection charges.
Question : Is this offer available all the times ?
Answer : Yes currently this offer is available but telenor reserves the right to withdraw this offer anytime.
Telenor Website Official Link for Telenor Sim Lagao Offer
https://www.telenor.com.pk/personal/telenor/offers/sim-lagao-offer/