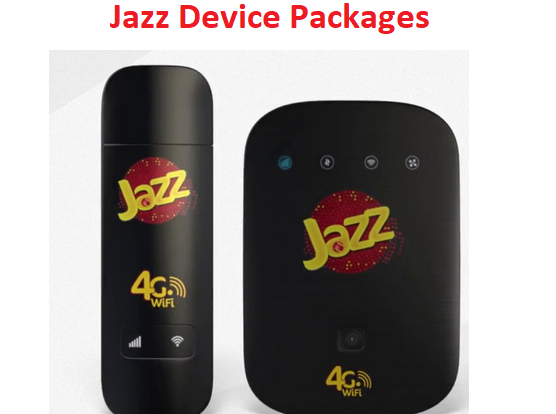 Jazz Provide mobile broadband on it's 4G network with blazing fast speed with it's multiple 4G devices which allows you to connect multiple smart phones, laptops and other devices to surf the internet.If you own a jazz 4G and you are looking for Jazz Device Packages then you are at the right place as we are going to discus all of the Jazz Device Packages in details.
If you are looking to buy a Jazz 4G devices then you may have a look at our post Jazz 4G Devices which will provide you all details about the available Jazz 4G devices with their specifications and price.
Jazz Device Packages listed in this post can only be subscribed on the Data sim which come with the Jazz 4G devices and these packages are not going to work with the normal jazz sim cards.
Data sim which works with jazz devices are the sim cards which can only transmit the data in 4G/3G and 2G but these sim cards can't do voice calling.
Jazz Device Packages are available in different duration validity (3 days,Weekly,Monthly,3 Months and 6 Months).Followings are the details of all packages available at jazz devices with the availability,price and subscription codes.
Jazz Device Packages
---
3 Days Bundle
Validity : 3 Days
Amount to Recharge : Rs. 400
Amount of Data : 8 GB
How to Subscribe : *117*53#
---
Weekly Bundle
Validity : 7 Days
Amount to Recharge : Rs. 1000
Amount of Data : 25 GB
How to Subscribe : *117*57#
---
Monthly Bundles
---
Regular Bundle
Validity : 30 Days
Amount to Recharge : Rs. 2000
Amount of Data : 60 GB (30 GB useable 1am – 1pm)
How to Subscribe : *117*73#
Status Code
*117*73*2#
Un-Sub CODE
*117*73*4#
---
Mega Bundle
Validity : 30 Days
Amount to Recharge : Rs. 2400
Amount of Data : 110 GB
How to Subscribe : *117*36#
Status Code
*117*36*2#
Un-Sub CODE
*117*36*4#
---
Heavy Bundle
Validity : 30 Days
Amount to Recharge : Rs. 3000
Amount of Data : 180 GB
How to Subscribe : *117*74#
Status Code
*117*74*2#
Un-Sub CODE
*117*74*4#
---
Long Duration Bundles
---
3 Months Bundle
Validity : 90 Days
Amount to Recharge : Rs. 6500
Amount of Data : 65 GB
How to Subscribe : *117*15#
Status Code
*117*17*2#
Un-Sub CODE
*117*15*4#
---
6 Months Bundle
Validity : 180 Days
Amount to Recharge : Rs. 14000
Amount of Data : 65 GB
How to Subscribe : *117*16#
Status Code
*117*18*2#
Un-Sub CODE
*117*16*4#