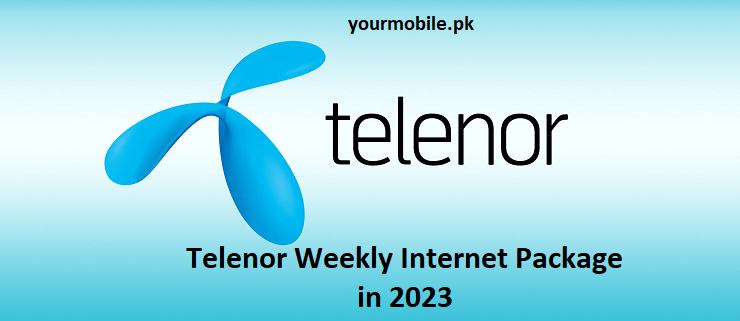 If you are a telenor network and looking for the latest telenor weekly internet package then you are at the right place.Telenor has millions of 3G/4G customers in Pakistan and they always keep on looking for the latest and best possible internet packages which fits best in their budget and they get the maximum resources with it (MBs and other resources)
These telenor weekly internet packages are great if you want to use internet for the whole week by paying once in a week.All of these packages have the validity of 7 days.Weekly internet package are for the prepaid customers of telenor because telenor doesn't offer weekly packages to postpaid customers.Most of the packages available for postpaid customers have validity of 30 days.
Maximum price of internet package of telenor with a weekly validity is Rs. 190 Incl. tax. that package name is 4G weekly ultra and this is the mostly demanded package as it gives you 8 GB of internet data which can be used at any time for the whole week or 7days.So people love that much of data.
If you want to get a weekly internet package and your usage is mostly on the night time then you should get 4G Weekly Internet Max as this is the package with the price of Rs. 55 Incl. Tax and it gives you 30 GB of internet but it can only be used during the time of 12 am till 9 am so basically this is a night time package.
Always keep in mind that whenever you buy an internet package which has a time limitation e.g. 12 am till 9 am then you need to make sure that you use the internet at that time only and keep the mobile data turned off other time because if you use the data on out of the package hours then you will be charged at normal mobile data usage rate which are very high.
Telenor Weekly Internet Package Details
| | | | | |
| --- | --- | --- | --- | --- |
| Name | Price | Validity | Data Volume | Subscription Code |
| Weekly Zoom Package | Rs. 80 incl. tax | 7 Days | 3000 MBs (For Zoom Only) | Dial *345*56# |
| 4G Weekly Internet Max | Rs. 55 incl. tax | 7 Days | 30 GB (12AM - 9AM) | Dial *19# |
| Monthly TikTok Offer | Rs. 60 incl. Tax | 7 Days | 3GB TikTok, Likee & SnackVideo | Dial *121# |
| Weekly 6 to 6 Package | Rs. 60 incl. tax | 7 Days | 5000 MBs (6AM - 6PM) | *71# |
| 4G Weekly Super | Rs. 120 incl. tax | 7 Days | 4000MB (incl. 2000MB 1AM to 11AM) | *288# |
| 4G Weekly Ultra | Rs. 190 inc tax. | 7 Days | 8 GB | *336# |
How to check the Telenor weekly internet package on telenor website
You can also check the latest weekly internet packages on telenor website as whenever a new package is introduced by telenor, it quickly gets available on telenor website with the price and other details.You may check the telenor website for the latest internet packages from telenor.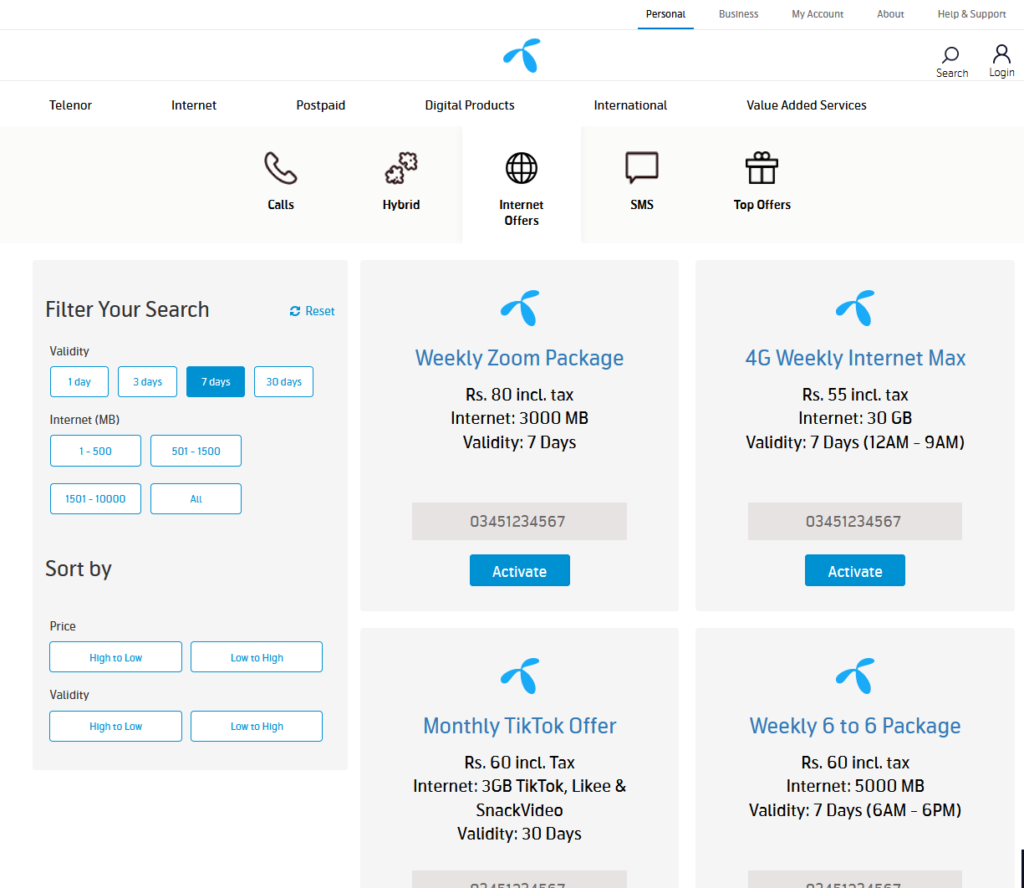 https://www.telenor.com.pk/personal/telenor/offers/internet-offers/
How to check the Telenor weekly internet package on my Telenor app
Nowadays most of the people use a smart phone which has the operating system Android or iOS and the good news is that my telenor app is available for both android and iOS based smart phone.Latest telenor weekly internet package details and price is available on my telenor app.
You need to install the app and then open My Telenor App and then go to Offer > Internet .It will show a list and details of all of the internet packages available for you.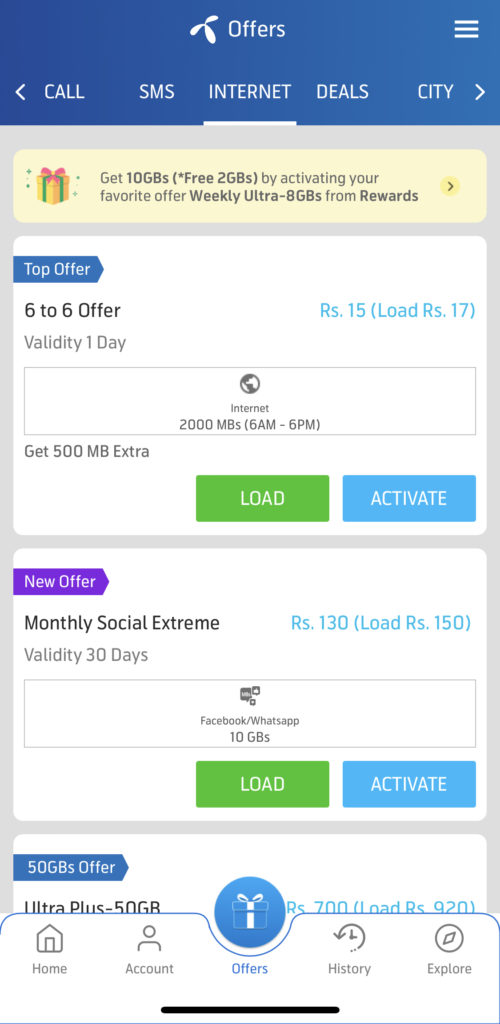 My Telenor App download links