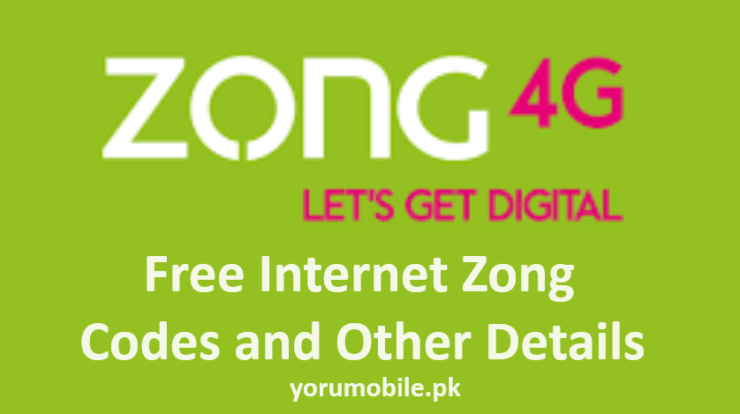 If you are look for the possible ways to get free Internet zong then you are at a right place, as in this blog post we are going to share all of the best possible, updated and working ways for getting free internet on your zong number.
Zong has millions of customers in Pakistan and there are many users of zong who are looking to get some of the free internet MBs from zong as the mobile data is expensive in almost every cellular network in Pakistan so by following the methods defined in this post you may get some free Internet MBs from Zong.
How to Get Free Internet Zong
Following methods are available to get some free internet in your zong number.All of these method are udpated,tested and verified.These methods can be used by existing zong customers and new zong customers.
1)Install My Zong App (Get free 6 GB for 1 Month)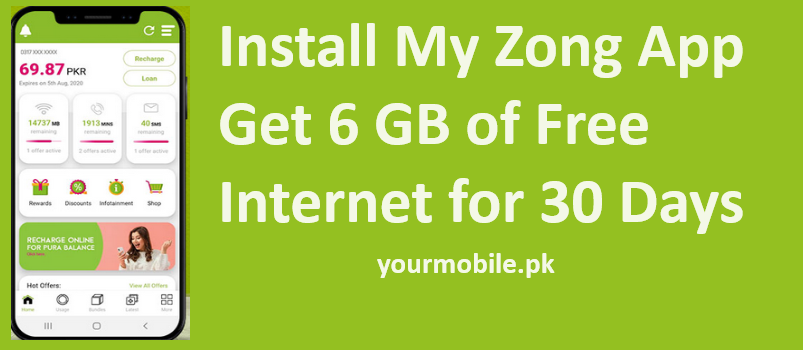 Zong Offers free internet on the installation of my zong App, so you may go ahead and download my zong app for android or iphone from the following links.
Download Zong App for Android
Download Zong App for iPhone
Once downloaded the installation and activation process of zong app is very easy.
Launch my zong app and enter your zong number,it will send you a code which is automatically retrieved by my zong app and your are done.As soon as you completed the activation process on my zong app , free data will be posted on your zong number and you will get a sms from zong.
Eligibility of Free MBs on My Zong App
Please keep in mind that this offer is valid for the activation of your zong number on my zong app for the first time,so if you uninstall my zong app and re install it or change your mobile phone and you activate the same number then you won't get these free MBs again.
Process of receiving free Internet MBs
This offer will give you the total of 6 GB of internet for 1 month (30 Days) in the following process.
You will receive 200 MBs of free internet from zong on daily basis.
You must have to open my zong app on daily basis to get these free MBs.
If you miss to open my zong app on any day then you will miss 200 MBs for that day.
As soon as you open my zong app you will receive a sms from zong that you have received from 200 MBs
You need to use these 200 MBs free internet zong as this is a small amount for most of the latest mobile phone with 4G connectivity as it may quickly drain these free MBs on HD video or any of the website with heavy images.
2) Free Daily Rewards (Shuffle Reward Game)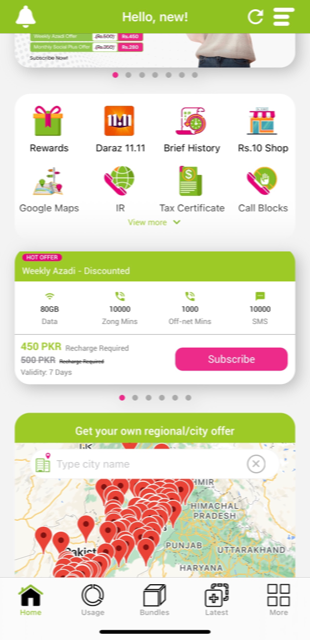 Zong offers small amount of free MBs on daily basis via my zong app.You may claim this free internet from zong by just opening my zong.Process of getting free internet rewards from zong is given below
Process of getting free daily rewards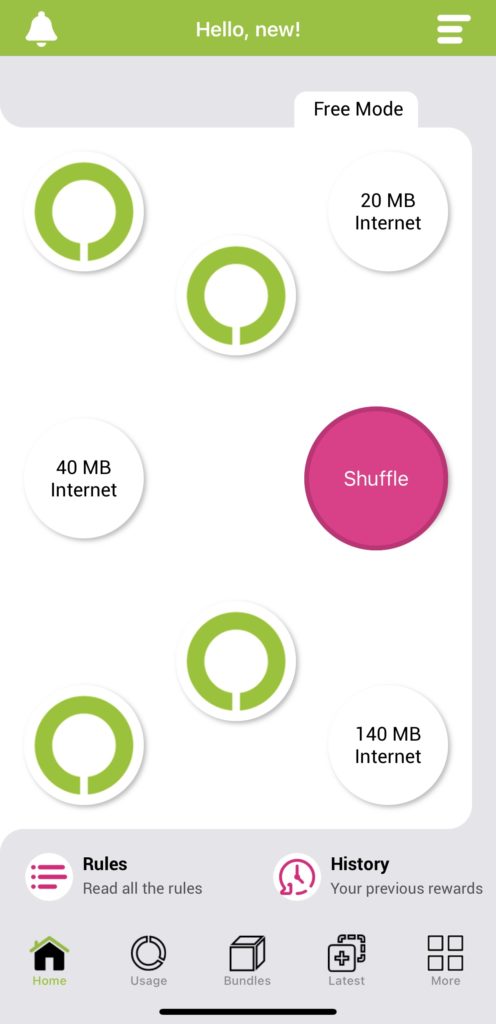 You need to be connected to internet via Wifi or mobile data.
Open my zong app and scroll down a little bit.
Tap on the Rewards option
You will see some circles with different amount of free internet MBs
You need to tap on shuffle button and it will shuffle and you will receive some free internet MBs.
The amount of data you will get totally depends on your luck as the amount of data available are 20, 40, 140, 200 MBs so you may get any amount after shuffle.
Once the shuffle is completed you will receive a sms from zong with the amount of MBs you have won via this reward option.
Terms & Conditions
You may play this shuffle reward game 3 times per day.First shuffle will be free of cost but you will have to pay for the second and third play.
This options is only available for prepaid customers of Zong
Free MBs will be posted on zong number in 15 Minutes
3) New Sim Offer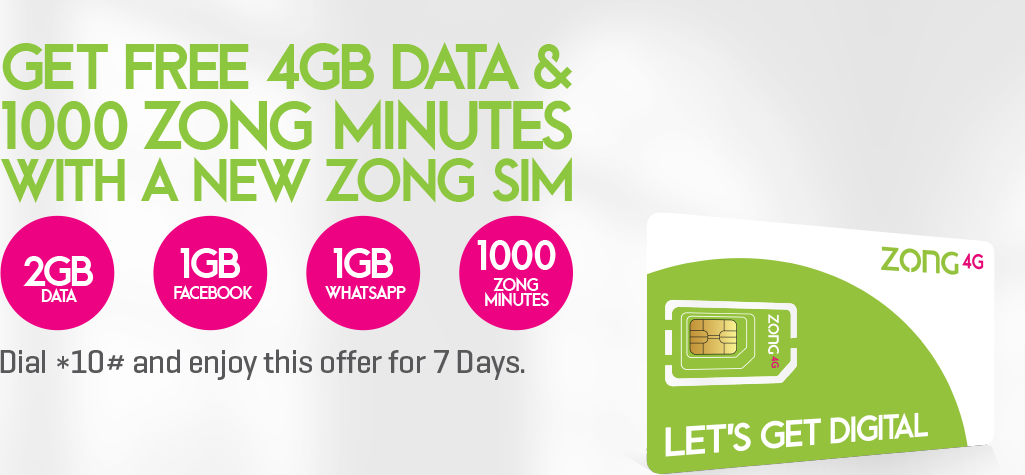 Zong has a great welcome offer for it's new prepaid customers in which zong gives free internet zong and On-net minutes.This offer is available for new customers of zong and also for the customers who have just port-in to zong network.
Free Resources
4 GB of Free Internet (Including 1 GB for whatsapp & 1 GB for Facebook and 2 GB of all internet)
1000 Zong to Zong Minutes
Validity : 7 Days
This welcome offer from zong is a great offer for new customers as it allows them to check the internet speed on zong network and free zong to zong minutes can let you know about the call quality so if you get a new zong sim you will get these resources with validity of 7 days.
Zong New Sim Offer Code
Dial *10# from your mobile keypad or dial pad from smartphone.
4) Free Internet Zong & Calls (On first load)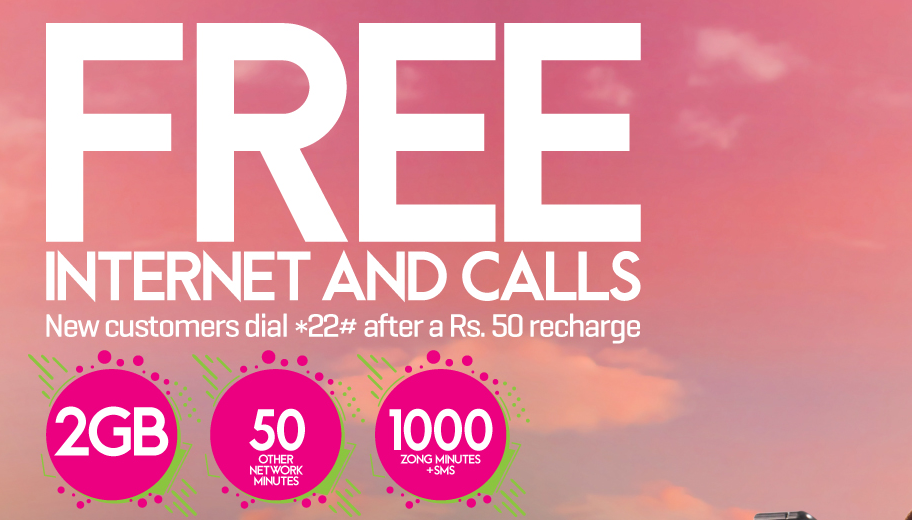 This zong free Internet & Calls offer is also for the new customers of zong or port in customer.If you are new on zong network so you may avail these free resources by just making a first minimum recharge (load) of Rs. 50 on your zong number.
Please keep in mind that this offer can be availed only after the first load on your zong number.
Free Resources
2 GB Internet
50 Off Net Minutes
1000 Zong Minutes
Validity : 3 Days
Subscription Code
First recharge your zong number with atleast Rs. 50 and then dial *22# to avail this offer.
Terms & Conditions
This offer is only for the prepaid customers of zong.
Offer needs to be availed within 90 days of sim activation.
Offer is valid on selected areas of Punjab only.
You may also avail this offer from zong website.
https://www.zong.com.pk/prepaid/free-internet-and-calls
5) Zong Sim Lagao Offer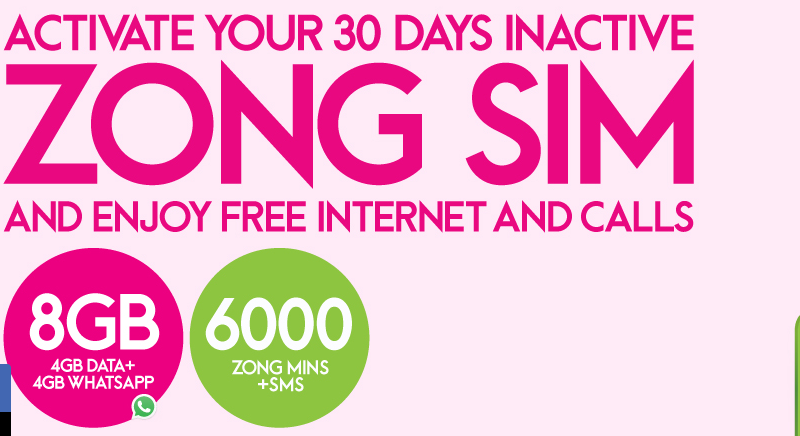 Sim Lagao offer from zong is a must have offer if you have not used your sim for the last 30 days.This offer will give you good amount of free internet zong, free zong minutes and free sms for all network.
But before putting your zong sim in to mobile phone to avail this offer make sure that you have not used your zong sim for the last 30 days as if you insert your sim before 30 days you won't be able to availale this offer and also you will have to remove your sim again and wait for the next 30 days.
Free Resources with Zong Sim Lagao Offer
8 GB of free Internet zong (4 Gb for Whatsapp & 4 GB for all internet)
6000 Zong Mins
6000 SMS for all networks
Validity : 2 Months
Sim lagao offer also gives the following resources for free on every recharge.
1000 MB of Internet.
25 Other Network Minutes.
1000 Zong Minutes
Validity : 2 Days
Subscription code for Zong Sim Lagao Offer
Put the sim card which is not used for last 30 days in to your mobile phone and dial *2244# to available this offer.
Although this a great offer for those who have not used their zong sim for the last 30 days but there are some terms and conditions of these resources which you should be aware of.
Terms & Conditions
Zong Sim Lagao offer is for zong prepaid customers only
Zong 20, Zong 30 and Zong Economy subscribers can avail this offer.
Customers will get 100 Zong minutes and 100 SMS daily for a period of 60 days.
Customers will get 10 Other Network minutes monthly for a period of 60 days.
Customers will get 2000 MBs + 2000 WhatsApp MBs on Day 1 and 2000 MBs + 2000 WhatsApp MBs on Day 31. Data incentive validity is 30 days and will not carry forward to next month.
Incentive posted can be used after 4:00 AM.
---
If you are also looking for some nice daily,weekly and monthly internet packages for ufone.Then check out.