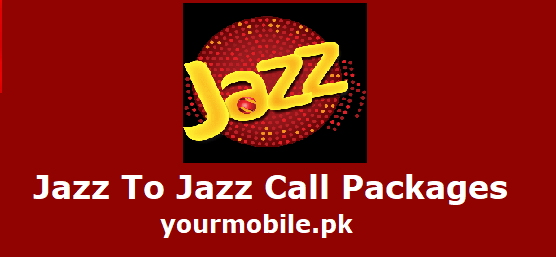 Jazz to Jazz Call Package Monthly are very popular among the customer of jazz mobile network.Jazz has millions of customers in Pakistan and People who has lot of calling on jazz numbers prefer to get a calling plan for jazz to jazz numbers.These calling plans are very helpful in keeping budgets in limits as without these calling packages you will have to spend lot of mobile balance on call.
Jazz Offer different type of calling packages with different duration e.g. daily,3 days, weekly and monthly and the good thing about jazz to jazz call packages is that these packages are very low in rate and if you get a monthly package for call on jazz numbers then you will have a peace of mind for the whole month to make call.
In this post we will list down all of the calling packages monthly for jazz to jazz network.All of these packages come with the validity of 30 days.
Jazz to Jazz Call Package Monthly Details and Codes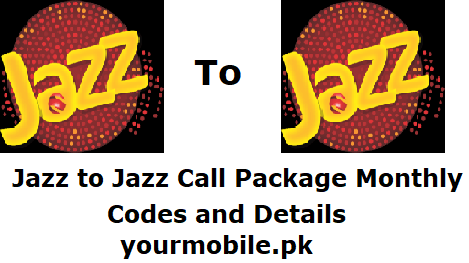 ---
Jazz Mahana Bachat Offer
Price : Rs. 250 Incl. Tax
Validity : 30 Day
Jazz to Jazz Minutes : 300
Other Network Minutes : 50
SMS for All Networks : 1000
Internet Data : 6 GB ( For whatsapp and IMO Only)
Subscription Code : *614#
Status Code : *614*2#
---
Jazz Monthly Social Plus
Price : Rs. 275 Incl. Tax
Validity : 30 Day
Jazz to Jazz Minutes : 300
Other Network Minutes : 50
SMS for All Networks : 300
Internet Data : 10 GB ( For whatsapp, IMO & Facebook Only )
Subscription Code : *617#
Status Code : *617*2#
---
Jazz Karachi Mahana Offer ( For Karachi Only )
Price : Rs. 521 Incl. Tax
Validity : 30 Day
Jazz to Jazz Minutes : 5000
Other Network Minutes : 150
SMS for All Networks : 5000
Internet Data : 10 GB ( 5 GB Data can be used from 2 am till 2 pm)
Subscription Code : *529#
Status Code : *529*2#
---
Jazz Super Mahana Offer
Price : Rs. 521 Incl. Tax
Validity : 30 Day
Jazz to Jazz Minutes : 5000
Other Network Minutes : 150
SMS for All Networks : 5000
Internet Data : 10 GB
Subscription Code : *529#
Status Code : *529*2#
---
Jazz Monthly Hybrid Bundle
Price : Rs. 868 Incl. Tax
Validity : 30 Day
Jazz to Jazz Minutes : 3000
Other Network Minutes : 300
SMS for All Networks : 3000
Internet Data : 10 GB
Subscription Code : *430#
Status Code : *430*2#
---
Jazz Monthly Super Duper
Price : Rs. 868 Incl. Tax
Validity : 30 Day
Jazz to Jazz Minutes : 3000
Other Network Minutes : 300
SMS for All Networks : 3000
Internet Data : 10 GB
Subscription Code : *706#
Status Code : *706*2#
No Call Setup Charges
---
Jazz Monthly Premium Plus Package
Price : Rs. 1085 Incl. Tax
Validity : 30 Day
Jazz to Jazz Minutes : 3000
Other Network Minutes : 500
SMS for All Networks : 3000
Internet Data : 20 GB
Subscription Code : *2000#
Status Code : *2000*2#
---
Jazz Monthly Super Duper Plus Offer
Price : Rs. 1260 Incl. Tax
Validity : 30 Day
Jazz to Jazz Minutes : 3000
Other Network Minutes : 500
SMS for All Networks : 3000
Internet Data : 40 GB
Subscription Code : *707#
Status Code : *707*2#
---
Jazz Monthly Max
Price : Rs. 1260 Incl. Tax
Validity : 30 Day
Jazz to Jazz Minutes : 3000
Other Network Minutes : 500
SMS for All Networks : 3000
Internet Data : 40 GB
Subscription Code : *708#
Status Code : *708*2#
---
Jazz Monthly Freedom
Price : Rs. 1564 Incl. Tax
Validity : 30 Day
Jazz to Jazz Minutes : 2000
Other Network Minutes : None
SMS for All Networks : 2000
Internet Data : 1000 GB
Subscription Code : *733#
Status Code : N/A
---
If you are looking for jazz Internet Package then check out the post