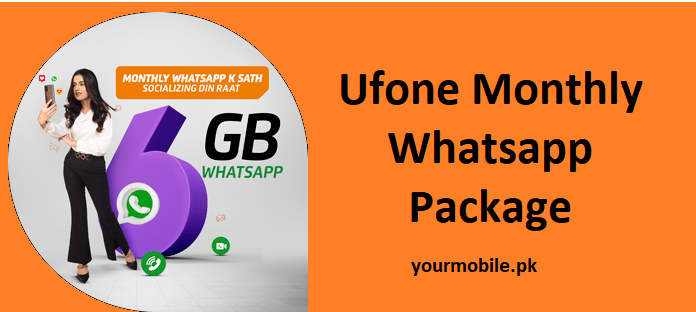 We all know that whatsapp is one of the most popular messaging app globally.Ufone Monthly Whatsapp Package is a great offer for all prepaid customers of ufone.This packages gives you an ease to pay once in a month for the whatsapp data for whole month.This can be a perfect monthly whatsapp package for those you mostly need to use whatsapp.
In this offer ufone provides 6 GB of data for whatsapp only for the whole month.6 GB of data should be enough for the whole month as whatsapp doesn't use lot of data when the phone is connected to mobile data network.You may also review the whatsapp setting and make sure that the videos are not set to be auto-downloaded when you are on data network.
One of the most important thing you need to make sure if you only want to use whatsapp and have purchased ufone monthly whatsapp package is that your smart phone doesn't use mobile data for any other app.Basically cellular service providers provides the packages for each app e.g. whatsapp then they put all of the whatsapp ip addresses and hostname to their network to not be charged when user have a plan for whatsapp.
But actually what happens is that iPhone or android phones consume data in the background app refresh and notification services.So you need to disable the app to not all the use of mobile data if you only have the whatsapp package because if the data is used by any other app then you will be charge a good amount as the data is very expensive in all mobile networks if you don't have a data plan.
You may also have a look at our post.Internet Packages for Ufone.
Details of Ufone Monthly Whatsapp Package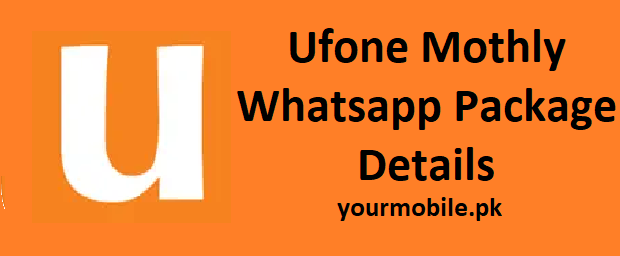 Price : Rs.90 (This is the total load amount you need to load into your mobile number)
Validity : Monthly (30 Days)
Internet Data : 6 GB (Whatsapp)
How to Subscribe Ufone Monthly Whatsapp Package
Method 1
Dial *987# from Mobile Dialpad
Method 2
This offer can also be subscribed from ufone website link.
https://www.ufone.com/monthly-whatsapp-offer/
Method 3
Another way of getting this offer is via the ufone app which can be download from app store or android with the links below.
Once the offer is subscribed you will get a sms from ufone that the package is subscribed.
Whatsapp Package Resource Usage Check
To check the amount of data available with this package you have 2 option
1) First options is to dial *706# from Mobile Dialpad.This option works best for all type of mobiles.
2) Second option is to use the ufone app in iphone or android smart phone.
Terms and Conditions (From Ufone)
6 GB of Data is only to be used for whatsapp only.
Product is not Auto recursive.
Price is Inclusive of tax so that maximum amount needed for this package is Rs. 90.
Multiple subscriptions for this is allowed.So if you subscribe it for example 2 times then you will have 12 GB of data for whatsapp.
Bucket subscribers will get maximum available speed. Actual Internet speed will depend on multiple factors such as location, time, device, web pages accessed, number of subscribers etc.