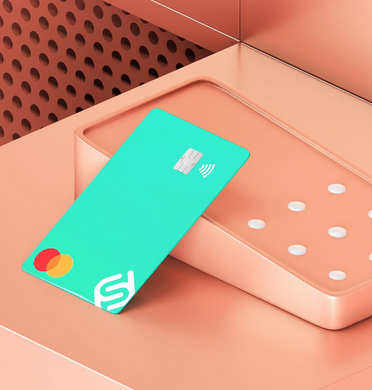 If you have just heard from someone that he/she is using SadaPay and you don't know what is sadapay then you are at the right place as in this article i will try to include as must information as possible about Sadapay.So lets start with the most important and first question which every person has in mind.



What is Sadapay ?
SadaPay is an Online payment gateway (Fintech Company) which provides you the ease of purchasing products and services online globally.Sadapay offers virtual and physical debit cards in collaboration with MasterCard and as all of us know that MasterCard is accepted globally on thousands of merchants and website.
Good thing about sadapay is that the registration process is quick and all you need to have is a smartphone (Android or iPhone) and your mobile number to get started with the signup process.

Requirements for SadaPay
To get started with the sign up process and then start using the sadapay virtual and physical debit card you need to have following things ready with you.

1) Smart Phone (Android or iOS)
2) Active mobile number of any network in Pakistan
3) Original CNIC

Signup Process
If you have all of the things mentioned above then you are ready for the signup process.So in order to signup for sadapay you need to follow these steps.

Download SadaPay App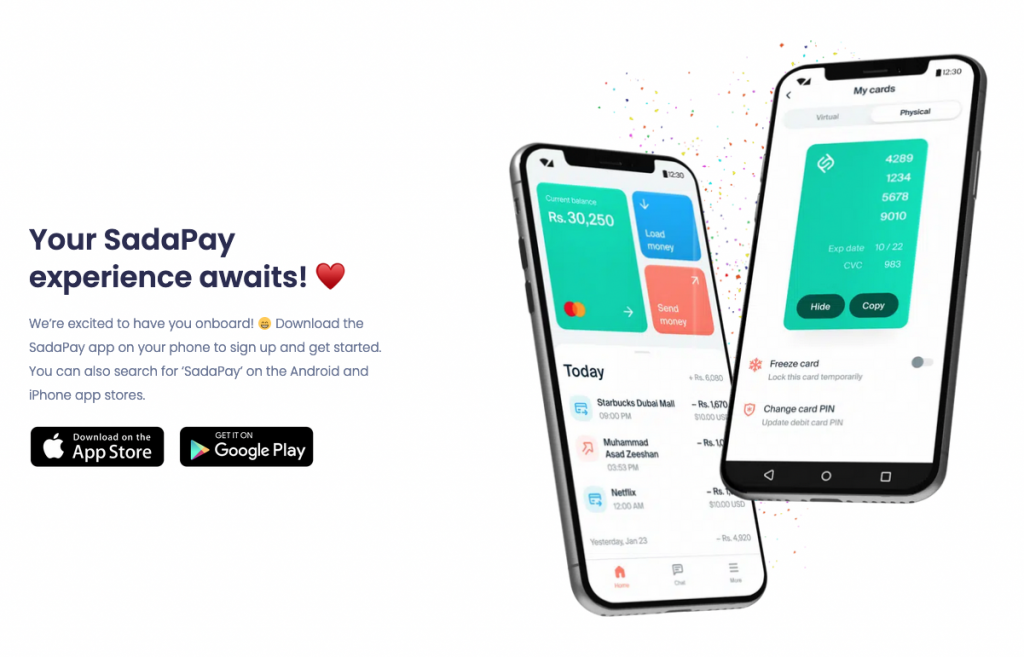 First step to get started with SadaPay is to download SadaPay App from the following links
App Store (iOS)
https://apps.apple.com/pk/app/sadapay/id1543848524
PlayStore (Android)
https://play.google.com/store/apps/details?id=com.sadapay.app
Once the app is downloaded and installed to your phone next step is the signup process.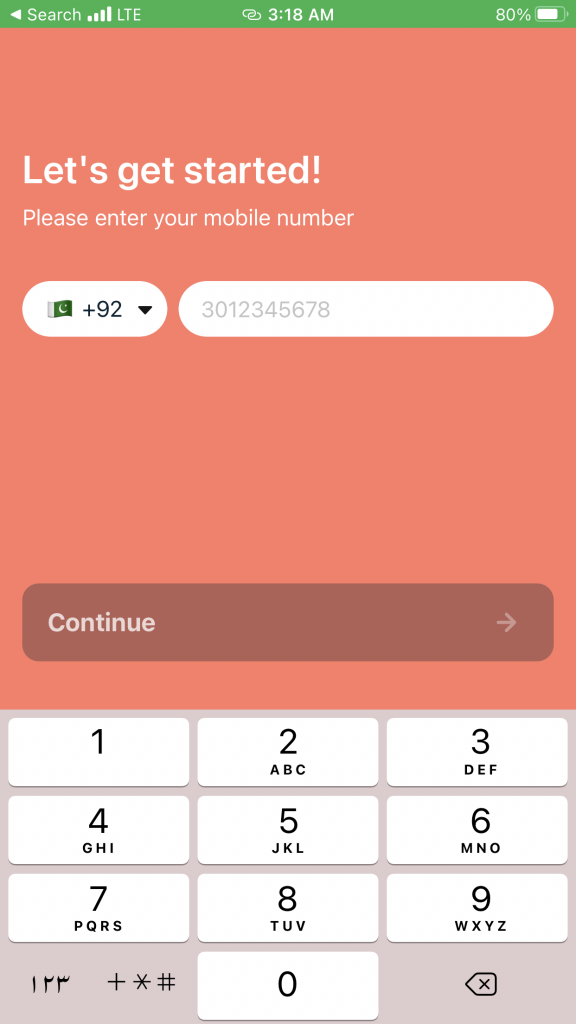 Open the SadaPay App and it will ask for you phone number.
Enter your phone number and continue.
It will send a OTP to confirm your mobile number.
Enter OTP in sadapay app and finish the signup process.
One thing about sadapay is that it doesn't directly enters you into its system, instead they have a wait list as they are receiving high number of new signup requests so they put you on a wait list and then after some days you will receive an email from SadaPay that you are ready to create account at sadapay.
Once you receive that email from sadapay you may now re open the sadapay app and it will ask some more details from you.Which will be the front and back of your CNIC (original) Sadapay app has an option to take a picture of your cnic.
As you have submitted the pictures of CNIC, now it will take 1 – 2 more days for the account creation to be completed as sadapay team checks all the details manually before approving the account.
After 1 – 2 days you can open the sadapay app again and you should be good to go.
Features of SadaPay
There is no doubt that SadaPay has done enough research before launching it and they have introduced some very nice and useful features which really helps a user.
Accepted Globally
One of the most important feature of sadapay is that it is accepted globally and that is very helpful for the people of Pakistan as they really struggle in paying online at different websites (e.g. Netflix,aliexpress and others) with sadapay they can easily pay to any of the service globally.
Not only online but sadapay does provide Physical debit card which can be used at any merchant of store in Pakistan and around the globe.
No fees
Sadapay is different from other banks as most of the sadapay services are either free, for example you may do 3 free withdrawal from any ATM in Pakistan while other banks chages Rs. 22 for 1 ATM withdrawal.
Also the signup process and getting a new physical card is also free at sadapay but if you lose your card and request a new one then there will be some charges
There is no bank transfer IBFT fees if you send funds to any of your bank account from sadapay.
Security
SadaPay is regulated by the State Bank of Pakistan and operates under the Electronic Money Institution license framework which means you don't need to worry as state bank of Pakistan has given sadapay the operation license after the confirmation and testing of very strict security standards.
Schedule of Charges
| Account Opening Charges | None |
| --- | --- |
| Monthly Charges | None |
| Annual Charges | None |
| Mobile Banking Fees | None |
| SMS Fee | None |
| Minimum Balance Requirement | None |
| MasterCard Issuance/Annual Fees | None |
| MasterCard Replacement Fees | Rs. 750 |
| PayPak Fees | Rs. 700 Annually |
| PayPak Replacement Fees | Rs. 750 |
| 3 ATM withdrawal per month | Free |
| ATM Withdrawal after 3 | Rs. 23.44 |
| Local Bank Transfers | Free |
| | |
| | |
| | |
| | |
SadaPay Debit Cards
SadaPay offers virtual and physical debit cards, when you create a new account at sadapay your virtual card is automatically created and details are available in SadaPay app.
Virutal Debit Card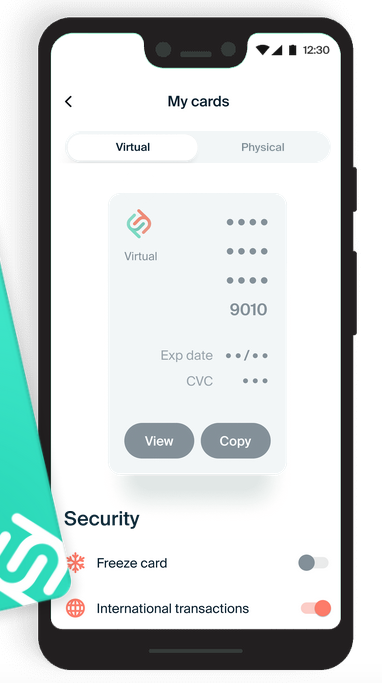 This is a card which is meant to be used for online and eCommerce transactions e.g. Netflix,google,apple,aliexpress or any other.So if you need to pay to any website over internet you should use virtual card.
Physical Debit Card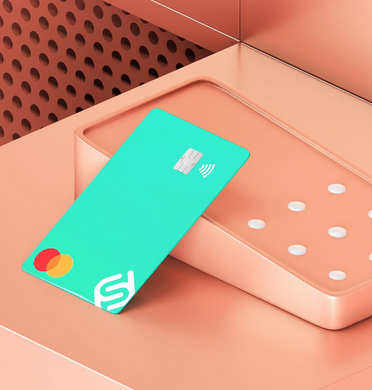 SadaPay can also provides you a physical debit card with MasterCard which means it is accepted on thousand of merchants globally and you can shop with ease anywhere around the globe.Physical debit card is not enabled by default in sadapay app but you can request a physical card anytime by entering your address details.
Once you receive the debit card you will need to activate it and setup a pin from sadapay app and you are ready to go.
So this is all the information you need to have before getting started with sadapay, so if you are a person who regularly needs to pay for the subscriptions e.g. netflix,google or any other then you should definitely go with sadapay.
You may also have a look at our blog post on how you can get a netflix account using sadapay virtual card